Ventilation equipment comes in two categories: Inlet equipment and Outlet equipment. Ridge ventilator is a necessity to ensure proper circulation of air.
Product Features
Reduce heat build-up
Reduce gaseous by-products from the manufacturing process
Reduce flammable fumes to avoid risks of fire
Increase the performance of the ventilation system in pre-engineered buildings
Optimize energy use of air conditioners and save operations costs.
Ventilation must not be confused with air conditioning. If a cooler temperature is desired, air conditioners must be considered.
Many factories in Vietnam had ineffective Jack Roof Monitors (JRM). It has an unscientific design that causes a malfunction of ventilation when hot air cannot repeatedly go up and down.
Pebsteel always works closely with the customers and Green Building experts to come up with the most effective ridge ventilators (RV) for our pre-engineered buildings. It requires an excellent design of the whole building to ensure the ventilation on the roof and wall is perfect.
Standards ridge ventilators for pre-engineered buildings of Pebsteel are RV 3.0, 5.0, 6.0, and 7.0.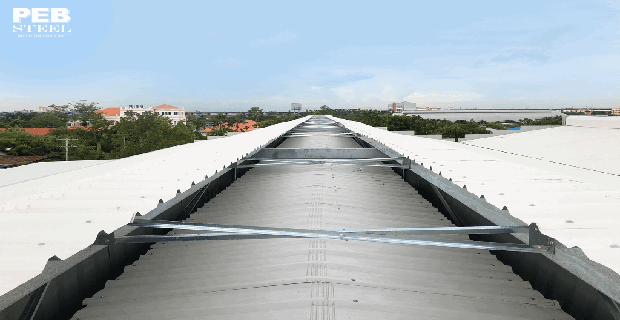 As the customers' specific requirements, the ridge ventilators can be installed as continuous or single units.
More information about this product?